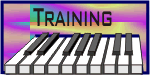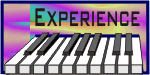 Why not write to me to check my availability and prices for your special occasion.
You can also contact me by phoning or texting my mobile 07769 732287 or The Music Box, Meadowhall, 0114 256 9089 and if I am not in at the time I will ring you back, or you will be given an alternative number to reach me.
Availability
Though I am retained for main dates of the year by prominent Sheffield Area hotels playing both their own and my digital pianos and run a weekly week-night dance on organ and keyboards locally I still have some weekend dates as well as midweek ones available.
Meet my friends on the
LINKS PAGE!
<![if !vml]>
<![endif]>
Musical Training
After showing early signs of musical promise was hastily assigned to a local music teacher and church organist, Mr. Albert H. Roberts, in Truro, Cornwall, to learn piano at the age of eight.
Continued with Mr. Roberts on organ from the age of 13, worked through the playing examinations of the Trinity College of Music, London, and eventually was awarded a major county award to study at the college full-time, for four years.
Piano and Organ at Trinity College of Music
There he was fortunate to be able study piano with Leslie Chase and organ with the organist of Her Majesty`s Chapel Royal and sub-organist of St. Paul`s Cathedral, London, Harry Gabb. Highlights he particularly recalls include playing music during services at St. Pauls Cathedral and occasional lessons at St. James`s Palace.
Qualifications Gained
While at Trinity College of Music he was awarded a licenciate (LTCL) in organ playing, a Graduate diploma (GTCL) for general and educational music and eventually a Fellowship of the college in organ playing (FTCL), a special award for which there is normally only one awarded per year per instrument (FTCL).
Current Relevance!
Despite these practical professional qualifications, Alex no longer adds the letters after his name, in the belief that, whatever your past achievements, in the professional music business you are only as good as your last performance!
Popular Re-Styling
He has also modified his technique and approach with many influences from pop to jazz since then so as to be able to produce a programme to suit almost any audience.
As a pianist his aim is to provide stylish tuneful versions of a variety of popular tunes of films, musicals, popular ballads, light classical and jazz standards. Sounds to make your special occasion even more memorable, and at a reasonable cost.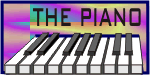 You can also ring or text to 07769 732287
Alex Govier, professional musician plays Piano, Keyboards, Organ or Accordion for
* Hotels
* Restaurants
* Corporate Events
* Weddings
* Banquets
* Special Occasions
* Private Parties
* Special Promotions
* Product Launches
* Shows
Prices
I always charge very reasonable prices, my lowest only just outside the two-figure range, with especially favourable rates for midweek engagements (except Bank Holidays etc.)
If you are organising something with lots of features my fees are likely to be the least expensive feature by a wide margin!